The first thing you notice when you arrive at Brooklands is the tranquility and beauty of the surroundings. Three acres of landscaped gardens showcasing an elegant historical building provides a stunning backdrop to its 53 modern luxury suites.
Whether you're planning a romantic weekend, a fun family getaway or you want to provide quality accommodation on the Mornington Peninsula for conference delegates, Brooklands has the perfect room for you.
Choose from a deluxe suite with a private courtyard, or a functional family suite with interconnecting rooms – Brooklands has the flexibility to arrange the right setting for you and your guests' individual needs, including disabled access throughout the property. With Free Wi-Fi available for all guests, you can stay connected during your Peninsula escape.
And our gorgeous bridal suites provide the perfect romantic setting for your special day. We pride ourselves in being an eco-friendly property engaging several environmentally friendly practices and with all non-smoking rooms. Beautifully decorated and with a warm welcoming ambience, Brooklands four star suites make you feel relaxed and thoroughly pampered.  So spoil yourself – come and stay at Brooklands – because you deserve the best.
Make A Booking
Modern, Luxurious and Award Winning
Treat yourself to the premium accommodation options at Brooklands of Mornington
Make A Booking
DELUXE BRIDAL SPA SUITE
Your wedding day is one of the happiest most memorable days of your life, that's why at Brooklands, our bridal suites offer you an experience you'll never forget.  Your stunning room with King bed is filled with fresh flowers, champagne and chocolates – the perfect romantic way to end your special day. Relax together in a luxurious spa then savour your spacious private suite made beautiful just for the two of you.
Phone us today and let us show you how we can make your special day even better.
DELUXE KING SUITE
Your Deluxe King Suite is the perfect place to relax and unwind. With a sumptuous king bed, your own private courtyard and work desk, you have everything you need for a perfect stay.
Ask about our weekend getaway specials and spoil yourself.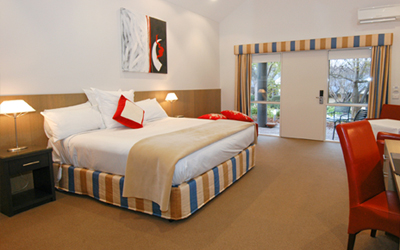 DELUXE KING AND SINGLE SUITE
Our most popular suite offers a King bed and a single bed with spacious ensuite and private court yard – perfect for that weekend getaway giving you space and flexibility.
BROOKLANDS STUDIO SUITE
Style and flexibility feature in our spacious self contained studio suites. With a King bed, kitchenette complete with microwave, work desk, ensuite and courtyard you have the perfect space to spread out, relax and enjoy!
DELUXE FAMILY SUITE
Spoil your family and spend some quality time together in one of Brooklands' deluxe family suites. Make the most of your family getaway with a Queen bed and two singles, ensuite and a private court yard where you can relax, chat and just enjoy being together!